The Hot Dog Hut will be visiting The Mill Workspace on Tuesday, May 14th from 10:30 am to 1:30 pm. They will be set up serving their delicious 1/4 pound all-beef Nathans hotdogs, chips and a drink for only $5!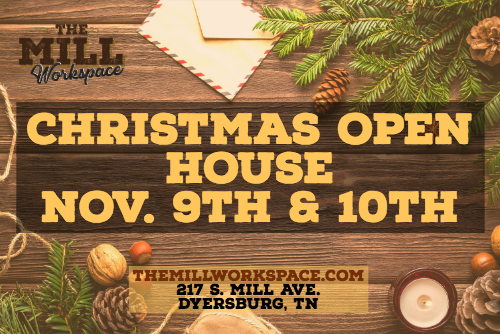 If the Downtown Dyersburg Christmas Open House weren't already good enough, The Mill Workspace will be opening the doors for an Open House of our own. Enjoy a Dirty Snowman from Java Cafe, some edible cookie dough from Doughsserts food truck, a pottery demonstration by the Preaching Potter Jim Keeling, live Christmas music by Matt Boals & Friends, dog treats from Farm House Barkery and sweet treats from All Things Pie and More, Chic Sweets by Courtney, and Life is What You Bake It. Pottery will also be on sale by Earthern Vessels Pottery and Gifts. We will also be welcoming Styles on Broadway SalonSpa to Dyersburg.
We'll also have a showcase of all the members of The Mill Workspace and we'll be here to answer questions about our space and show off all the cool gadgets and ammenities here.
Our open house will be held at the same time as the Downtown Dyersburg Christmas Open House. Read more here.
Vendors at The Mill Open House
Java Cafe
Doughsserts Edible Cookie Dough
Earthen Vessels Pottery and Gifts
Life is What You Bake It
All Things Pie and More
Farm House Barkery
Chic Sweets by Courtney
Meadows Custom Woodworking
Styles on Broadway SalonSpa
Mill Member Showcase
Launch731 Young Adults Ministry
Maleia Evans - Author and Speaker
R. Alan Ingalls
ServPro
Tencom Services
Date / Time
November 9th | 5-8 pm
November 10th | 10 am to 5 pm
Location
The Mill Workspace
217 S. Mill Ave.
Dyersburg, TN 38024